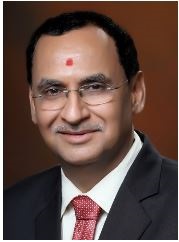 Dear colleagues in APPA ,
I am thankful to my organization, the Indian Academy of Pediatrics, for giving me the opportunity to lead the Asia Pacific Pediatric Association. I also thank all of you for having faith in my abilities and electing means the President of this prestigious organization.
The Asia Pacific region is home to the largest number of children in the world. It is heartening to note that many countries have successfully reduced child mortality and are focusing on quality of life and child development. However, child survival is still an unfinished agenda for the Asia Pacific Region, particularly South Asia. I will try my level best to pursue this unfinished agenda during my tenure.
Keeping this in mind, an APPA Action Plan has been mapped out for the next 3 yearsthat will focus on:
Reducing newborn mortality
Increasing equitable coverage of immunization ( both routine and new vaccines)
Reducing preventable deaths due to diarrhoea and pneumonia
Focus on early child development
Prevention and control of birth defects
Addressing issues related to non-communicable diseases and
Targeting the"double burden of nutrition".
The guiding principles of the APPA Action Plan will be to align the activities of the APPA with Global Initiatives like Every Newborn Action Plan, GAPPD, etc. Attention shall also be paid to partnering with governments, international agencies and in-country stake holders.
To achieve these aims, I propose to establish Technical Advisory Groups for the said focus areas. These groups will work under the guidance of leaders of our parent organization the International Pediatric Association.
APPA action plan can only be completed with the support of member paediatricians of National Societies.
It is my firm belief that a pediatrician's duty is to be an advocate of children and not just look after the health of children. Two important Advocacy Workshops were conducted during 15th APCP at Hyderabad in January 2016– APPA Gavi & Partners Immunization Advocacy Workshop and NCD Advocacy Workshop. I am pleased to announce that the participants of these workshops have given their commitment to work as APPA Child Health Ambassadors.
An Asia Pacific Pediatricians' Call to Action was also issued at end of Immunization advocacy workshop . We have called on governments, partners and vaccine industry to increase efforts towards strengthening health systems, health services, ensuring sustainable financing for immunization programmes and co-financing Gavi Vaccines, ensure vaccine prices are affordable, particularly to promote equity within and between countries.Pediatricians, on their part, should unite their voices, circulate, and endorse this Call to Action. Pediatricians should also increase their involvement in health-related and vaccine-related consultation and decision making processes.
APPA is committed to lead a movement of National Pediatric Societies and Associations to advocate for immunisation and the future health of the children of Asia Pacific. Progress will be reviewed in 2017.
I call on all pediatricians from the Asia Pacific Region and across the world to be "Agents of Change"; to realize the dream of Healthy Children for a Healthy World.
Our children are our future. I look forward to your whole-hearted support and encouragement towards achieving this dream.
Thank you.

Naveen Thacker
President ,APPA
28th January 2016