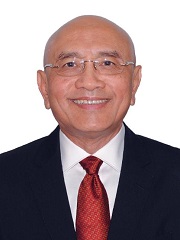 Distinguished fellow pediatricians,
It is a great honor to serve in Asia Pacific Pediatric Association for the next three years. I am humbled by the trust and opportunity given. I am also thankful for my association, the Indonesian Pediatric Society for allowing me to juggle the roles that has been bestowed upon me.
Connected together, we create the largest pediatric society in the world. Our association consists of 21 countries located next to each other, contributing to similarities in geography, culture, social norms and values. We celebrate diversity, and at the same time share several burdens of diseases.
In order to overcome various health problems in Asia Pacific region, we need to stay connected and work together. Inequalities are to be addressed and networking adopted as a norm in building a strong regional base to reach Sustainable Developmental Goals in 2030.
A strong, committed network of pediatricians will enable us to find ways to better child health and happiness in Asia Pacific region. For this term, it will be a good start to focus on issues concerning the first 1000 days of life, including nutrition, stunting, breastfeeding, newborn screening immunization, as well as managing and preventing further incidents of non-communicable diseases, continue fighting tuberculosis, and building good adolescent health services. These four main points interconnect with one another and it is essentials for us to work together concerning these issues.
I am optimistic that Asia Pacific children will play more important roles in building a better world as adults in the not so far future. Let's work together to achieve that by making sure they stay healthy and happy.
Sincerely,
Dr. Aman B. Pulungan